I decided to give holidays for pain, sadness and disappointment. I'm tired of complaining, of finding guilty for my anguish. I decided to send everything to plant potatoes and decided: I'm going to have a party inside me! To start, I go to the mirror to rehearse my best smile, I will remove these marks from my forehead, I will throw away this mask of pain that has been with me for so many days, and prepare yourselves: I want to be happy, I want to meet people like you who are happy, up, high spirits, to tell the truth, I was like that too, until a disappointment threw me down. But, today I don't want to talk about sadness, I want to know about good things, I want to go to the cinema, do you know how long I haven't been to the cinema? ..And there's more,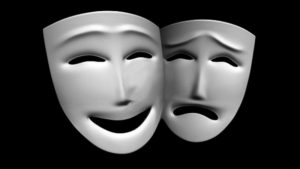 I'm going to choose the movie, no more "people" choosing what I want. Hmm ! I think I will go to the hairdresser first, I will dye my hair, cut some ends, I will please myself, just for my pleasure.
Funny, now that I mentioned it, you know that I was in a relationship where I did everything to please the person who was with me, did this, didn't do it so as not to hurt, didn't wear that outfit, used that perfume, everything to get it right, to maintain the "mood", to make the person's taste and resolved what? I gained a foot in the ass, and lost the will to live. Do you know where I went wrong? Today I know ! I was wrong when it came to canceling my desires, to transfer my life to someone else's hands, and of course, when I realized it was the end, I was groundless, worldless, lifeless. But, today is a feast day and just for my pleasure I will take a long shower, and I will pretend that the shower water is baptism water and I will be "reborn for life". Get out of my face I want to live !!! Anyone who wants me to come.